COMPANY
YORIKISUISAN Co.,LTD.

About us
Our company (HQ) is located in Sukumo City which is in the western part of Kochi Prefecture.
We mainly supply Kochi Prefecture seafood and agricultural products, and we also provide information about Kochi Prefecture.

Kochi Prefecture has a wonderful environment.
We have the sea, mountains, and rivers. Some say that there are over 1500 species of fish inhabiting the Kochi area.
The Sukumo Bay area especially has plenty of coral leaves and seaweed beds which helps the fish to grow.

The fish in this area are landed, sold, and bought at auction at Sukumo Bay Fisheries Cooperative.
Sukumo Bay Fisheries Cooperative's central market is a controlled market and is certified for excellent hygiene.

Our well-experienced buyers purchase high-quality seafood at markets.

Our factory is near the Sukumo Bay Fisheries Cooperative's Central Market and has the state of the art next generation freezer, the "Proton freezer".
Proton freezer is a hybrid technology of magnets, electromagnetic waves, and air blast.By making smaller crystals, it prevents cell destruction.
Factory department produces various types of products such as fish fillet, potion cut etc in order to meet customers requests.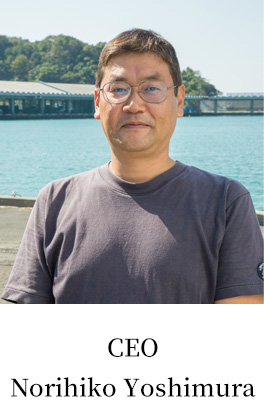 Company Profile
Company name

YORIKISUISAN Co.,LTD.

HQ OFFICE

〒788-0262 90-26 Koura Kozukushi-cho Sukumo City, Kochi JAPAN

TEL

0880-67-1122

FAX

0880-67-1121

Email

info@yorikisuisan.co.jp

TOKYO BRANCH

〒104-0054 401 Shanbo-ru daini-tsukiji 5-8-4 Kachidoki Chuou-ku, Tokyo JAPAN

TOKYO STORE

〒104-0045 Sakanaya kochike ichiba-nai Tsukijinippongyokou

KOCHI MUROTO BRANCH

〒781-7106 3-2-1 Ukitsu Muroto City, Kochi

ESTABRISH

In 30th MAY, 2008

CAPITAL

3,500,000 JPY

BUSINESS OVERVIEW

Processes and sell -Fresh seafood, Dried-Seafood, Processed seafood
Import and Export -Fresh seafood, processed seafood
Sell -Agricultural product, Aquatic product etc.
Event planning and operation
Sell -Food, liquor, soft drink, cosmetics, Books and magazines, cloth, jewelry, house hold product etc.

CEO

Norihiko Yoshimura
NEWS
September 2008

Started selling fresh seafood

June 2010

Bult HQ and First Factory

July 2010

First factory at OShima start operate

March 2014

Second factory at Tanoura start operate

October 2014

Sakanaya Kochike open

December 2017

certified as local future-leading company by ministry of economy

April 2018

Kochi Muroto branch open

October 2018

certified Kochi local HACCP

August 2020

Sakanaya Kochike renewal open
アクセス